Student Information
Get easy access to student particulars, their grades, schedules, address, parents' information, disciplinary records, extra-curricular activities, and any reports, anytime.
Track students particulars
Student photo
Parent contact details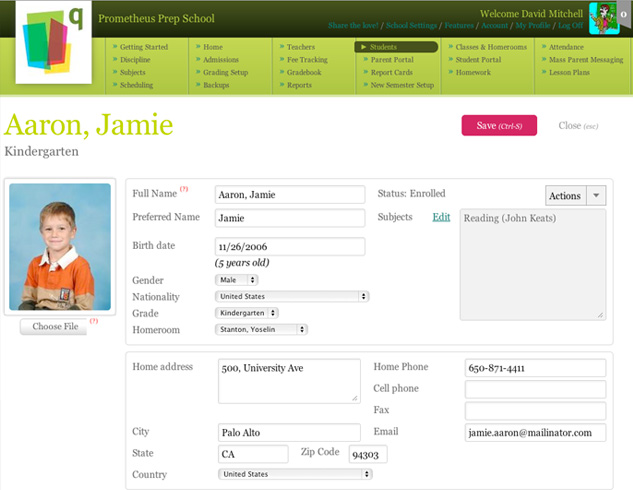 Teacher Information
Track your teacher's particulars, residential addresses and other important data. QuickSchools.com is always online so your teachers can access their schedule anytime.
View teachers' weekly teaching schedule
Assign lessons to a teacher
View teachers' contact details
Parent Access
Parents can log in and view their children's information anytime through the Parent Portal. Parents can check if their children attended school for that day, how they're doing in their classes and see if their kids have homework that night too!
Parents can access the system from anywhere
View their children weekly class schedule
Track their children progress closely throughout the term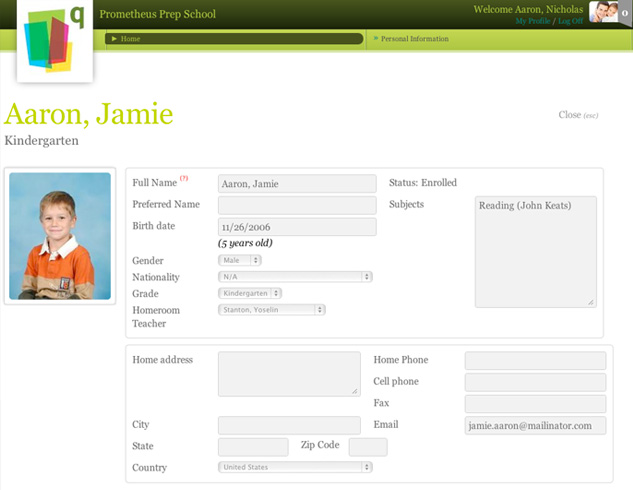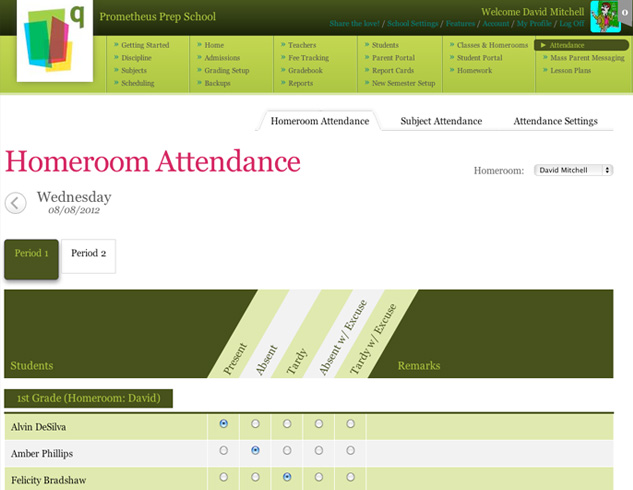 Attendance
Track daily attendance by homeroom, period or subject. Easy to use interface to check off your students.
View previous student attendance records in calendar format
Parents can view attendance info at anytime through the parent portal
Integrate attendance data seamlessly with your report cards too
Gradebook
Customized to suit your needs with one personal online gradebook for each teacher. The online gradebook feature enables teachers to enter grades frequently. Each teacher has full freedom to capture any number of grades for the subject that he or she teaches. The teacher can also define calculated grades.
Capture your students results in tests, quizzes and assignments in the gradebook
Define the percentage of each graded section that sums up to the final total result
Automated calculations
Share gradebook data with parents and students instantly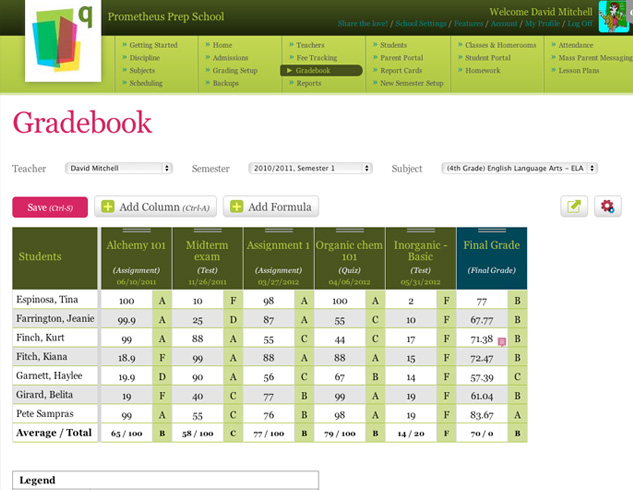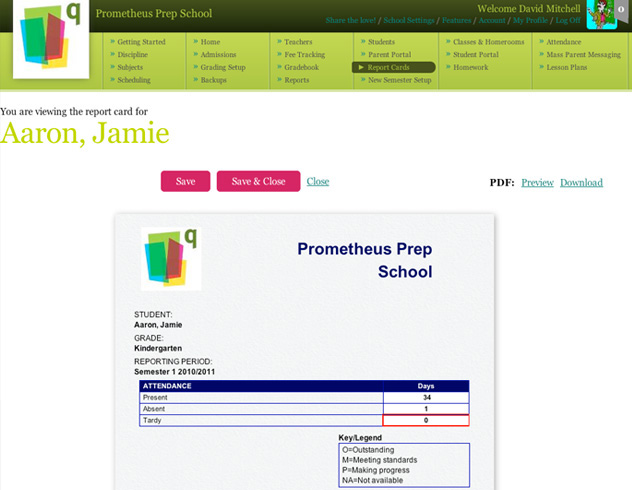 Report Cards
Report cards are fully customizable - you get to have your own grading criteria, grading flow, report card format. You can print beautiful report cards and transcripts.
Select and customize from a host of available templates
View/Edit the report cards before printing them
Print mass student report cards
Transcripts
You can create beautiful transcripts quickly and efficiently and never worry about losing them ever. It will always be safe in QuickSchools.
Enter past data dynamically using transcript templates within QuickSchools
View and print PDF of transcript at any time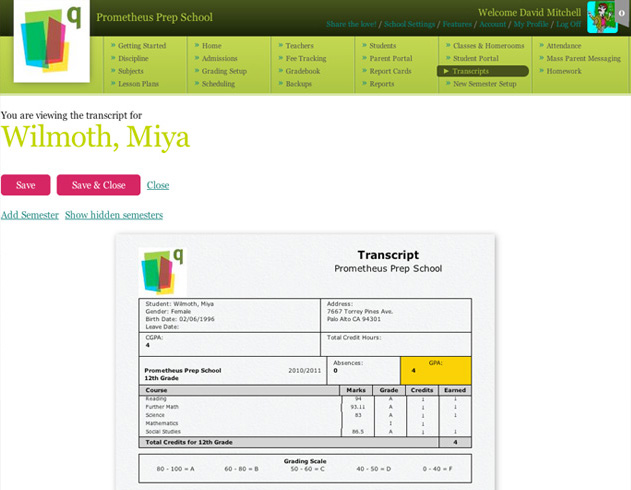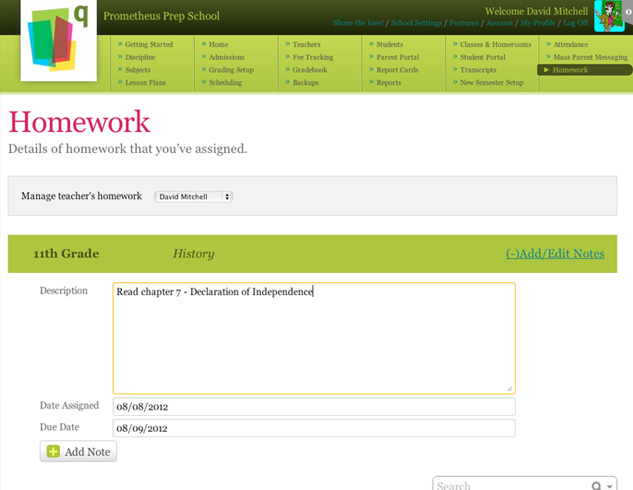 Homework
You can create homework assignments in seconds and share them instantly with your students.
Create homework assignments and define due dates
Share instantly via the parent and student portals
Scheduling Simplified
You can generate the school's schedules easily. You can view schedules by student, teacher or class. You can view and print a PDF version of the schedule.
Customize your teaching periods
Reconcile scheduling conflicts
Publish to students and parents as soon as the schedules are ready.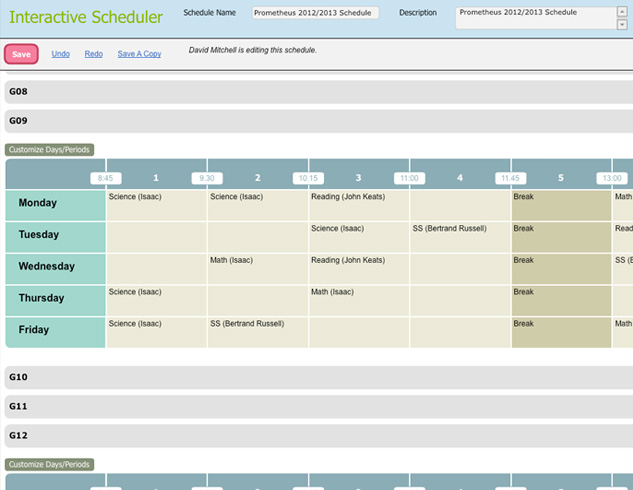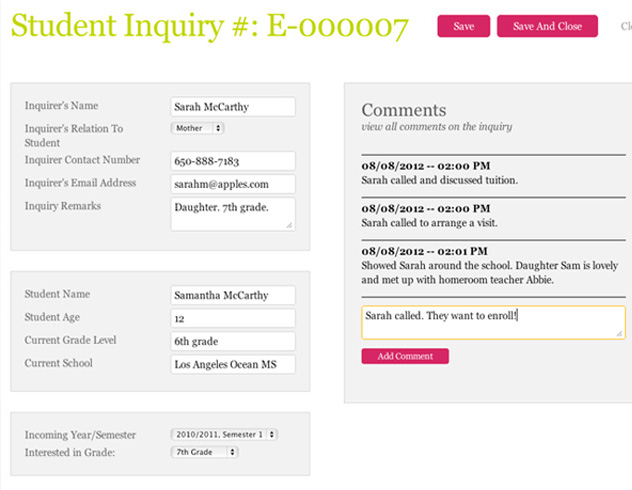 Admissions
Manage enquiries to your school all in one place. Move enquiries to applications stage seamlessly right through the time to successfully enroll the student into the right class. All in one place.
Capture enquiry from prospective families and students
Manage application process
Enroll seamlessly
Fee Tracking & Online Payments
A simple and straightforward fee tracking module that helps you track fees effectively.
Create standard charges that you can use time and time again
See outstanding balances at a glance
Share Bills information with parents instantly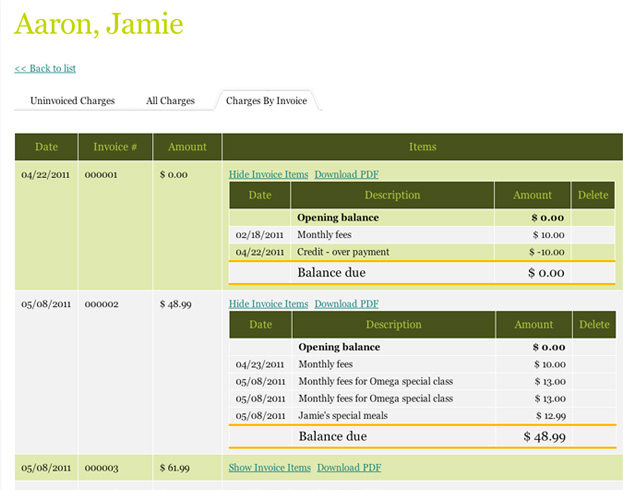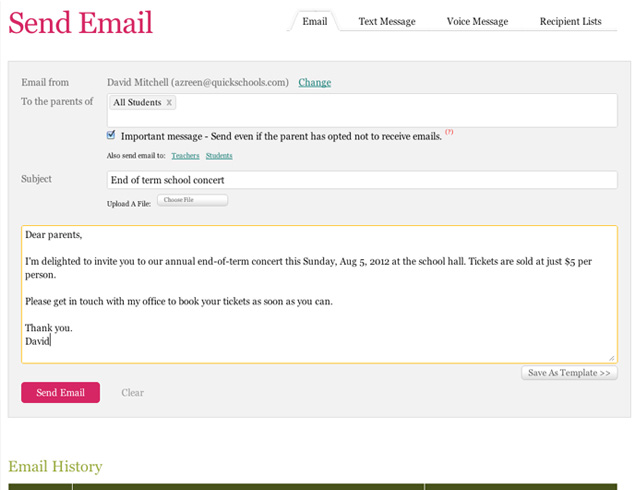 Email, text and voice messaging
No school today? Have a message you need to communicate urgently? Send out text or even recorded voice messages direct to parents whenever you need to.
Create templates of emails, text and voice messages you can use time and time again
Get confirmation receipts from QuickSchools